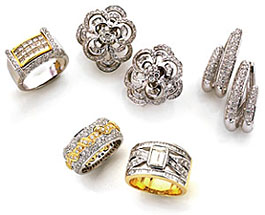 The beauty of the gems is augmented by our ingenious use of a variety of metals.
We specialize in platinum design, but you will find the metal or mix of metals to suit both your budget and taste in our Collins Street Showroom.
If you are planning a special occasion, our staff will be more than happy to show you a range of pieces guaranteed to please. We specialise in outfitting wedding parties with jewellery to suit every person and outfit.

We invite you to let Ashley Opals Jewellers help find you the ideal piece of jewellery.