Tahitian or Black Pearls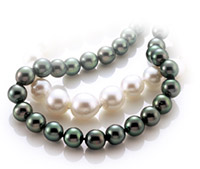 The dark hue on these pearls is exotic and elegant at the same time. Like the French Polynesian Seas where they are born, these pearls exemplify purity and perfection. Tahitian Pearls range in colour from champagne gold to dark green, from blue to crimson, with yellow, turquoise and violet shadings. The sultry colours of luxury and romance encapsulated in one gem.
This is an incredibly versatile gem. Dressed up for night or dressed just right for day, these pearls make a beautiful addition to any modern outfit. The designs at Ashley Opals Jewellers match these pearls brilliantly. Our modern, sleek designs ensure that the wonderful beauty of the Black Pearl is enhanced and augmented.
The contemporary design options are amazing and our clients are bewitched by the exoticism of these pearls. If you know you want something unique, but haven't been able to find it, a trip to Ashley Opals Jewellers may end your quest.
We invite you to bask in the stunning array of pearl designs at
Ashley Opals Jewellers.